IBMM provides a wide range of building restoration services
NanoSCS – Nanotechnology Self Cleaning Solution
The technology on self-cleaning coatings has developed rapidly in recent years. As a commercial product, the potential is huge and the market truly global. Self-cleaning coatings has wide range of possible applications, from window glass and cement to textiles, and it may become an important labour-saving device. The product potential has already been realized with its market availability amongst the several multinational glazing companies in Europe since few years ago, especially self-clean ducts on windows.
Nanoart is our premiere solutions provider.
Sky Tunnel™ – Natural Illumination for Darker Spaces
A Sky Tunnel™ skylight is a tubular day lighting technology which is installed on the roof of buildings for evenly light transmission to darker areas of buildings throughout the day. It uses light tubes or light pipes for transporting natural lights. It produces illumination equivalent to 800 watts of fluorescent lighting.
Free Daylight, Improves Occupants Comfort, 100% Colour Rendition, Very Low Maintenance, Environmental Friendly, No Heat Load, 7 Years Product Warranty.
PU MF Flooring solutions
Polyurethane, PU flooring MF is a thermal shock self-smoothing PU screed with an applied thickness of 3 mm to 6 mm. It has traditionally been the resin flooring system of choice for the industrial sector, with heavy duty polyurethane floor screeds having chemical resistance to attack from the like of lactic acids
PU MF systems complies with the Hazard Analysis Critical Control Points (HACCP), Good Manufacturing Practices (GMP), Hygienic and Halal requirements for food and beverage (f&b), pharmaceutical and manufacturing industries. It is resistant to a wide range of dangerous chemicals that makes it attractive such as hydrochloric acid, sodium hydroxide, citric acid, butyl acetate and ammonia (ammonium hydroxide).
Roof Repair & Restoration
Your roof is what protects your home, offices & factories from wind, rain and heat. It keeps your home, offices & factories safe from the elements. So if you want your roof to defend against the elements, it's important to make sure your roof is maintained properly.
A roof restoration goes beyond just repairing a roof. Rather than repairing a tiny section of the roof, a roof restoration looks at the roof as a whole and upgrades it all. It's a cost-effective and environmentally friendly alternative to roof replacement.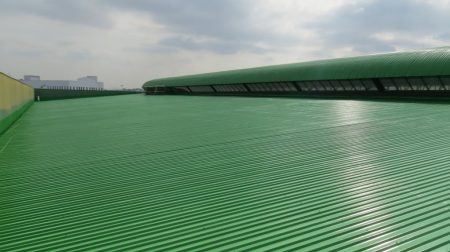 Glass Cleaning Solutions
Industrial water pipelines, storage tanks and cooling tower internal walls contain silica, calcium oxide, calcium carbonate, magnesium oxide … and other inorganic matters that easily generate scale, causing pipeline pressure to drop and lock. It also lowers cooling tower heat exchange efficiency, increase energy consumption, and promotes breeding of Legionella which is harmful to human. Therefore, water quality activation, anti-scaling and disinfection are most important parts of water treatment. Chem-free ion interference disinfection, bio-slime control and anti-scale device had been tested in many different environments and proven to have significant fast effect to immediately solve all your water quality problems
Building Painting & Restoration
At IBMM we specialized in building facade surface painting, plaster systems to decorate, protect, preserve, restore, or seal facade surfaces including anti fungus and algae treatment to non-structural crack line, Repainting & Recoating Works
Our colour consultants are there for our clients to provide the perfect choice with the right colour scheming. Colour charts will be provided to ensure that clients will have a vast optional choices. At IBMM we ensure colour consistency in our projects & finishing.
Plan Layout
It is vital to have a detailed layout of the plan so that projects can be executed within budget and timeline.
The Right Equipment
Through our vast experience, we have the right equipment for every job so that clients can have their peace of mind
Organizing
We understand how important time is to all of our clients because we believe that time is money.
Project Delivery
To ensure satisfaction to all our clients, we provide warranty to most major projects. Feel free to ask us if you have any questions.